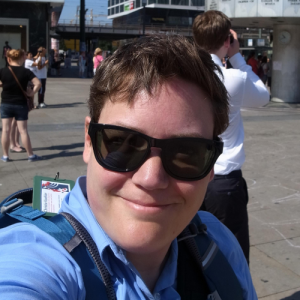 I am an experienced open culture advocate, community organizer, computer programmer, writer and speaker. In 2011, I joined Mozilla (makers of Firefox and Firefox OS) and have worked on numerous projects there. Currently I serve as the Education Lead on the Community Building team. You can learn more about my career experience at LinkedIn.
With Kevin Purdy, I host the In Beta podcast, which focuses on indie and open source development.
My community involvement is significant: I am co-chair of the annual Open Source Bridge conference, a co-founder and President of the Stumptown Syndicate, a technology education non-profit, and run both Code N Splode and Women Who Hack, user groups for women in technology. In 2012, I was recognized with an O'Reilly Open Source Award.
I live in Portland, Oregon with my wife as well as four cats and a dog. My non-tech activities include Hatha Yoga, cycling, hiking, folding origami and cooking yummy vegan food.
You can get in touch using this form.
Subfictional Studios is my personal blog. Occasionally I also write on my wife's vegan food blog, Vegan Nosh.
My last name is pronounced KAY-ler (audio). You can also call me CK.